Hey, guess what? It's October! Yeah, I know, we went over that
yesterday
with all the lovely e-book deals of the month, but a new month means not only new e-book bargains, but new book releases about which I can get freakishly excited about. Because I need more things to get excited about, right?
At any rate, October signals the release of Barb Hendee's
Hunting Memories
, the second in her
Blood Memories
series, and to celebrate, we're giving away both books.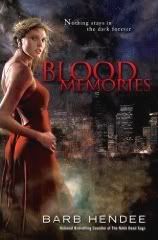 One of the neatest things about these books is the way the vampires are handled, which is different from anything I've seen done with them before. One of the notable things is that each vampire has one "gift" to help them with hunting, an exaggerated characteristic brought over from their human lives. Eleisha, the heroine, has the power of helplessness, which is a lot stronger than it sounds like: it draws people to her, and they want to protect and help her, regardless of the cost to themselves. Julian has the power to cause debilitating fear while Philip lures people in with his intense sexual mojo.
So in order to win both of these books, what I want is for you to tell me what sort of vampire gift you think you'd bring over from your human life and how you could use it for hunting. If you get really stumped, you can tell me what gift you'd
want
to have.
Edit: This contest is now closed.
Thanks to everyone who entered!